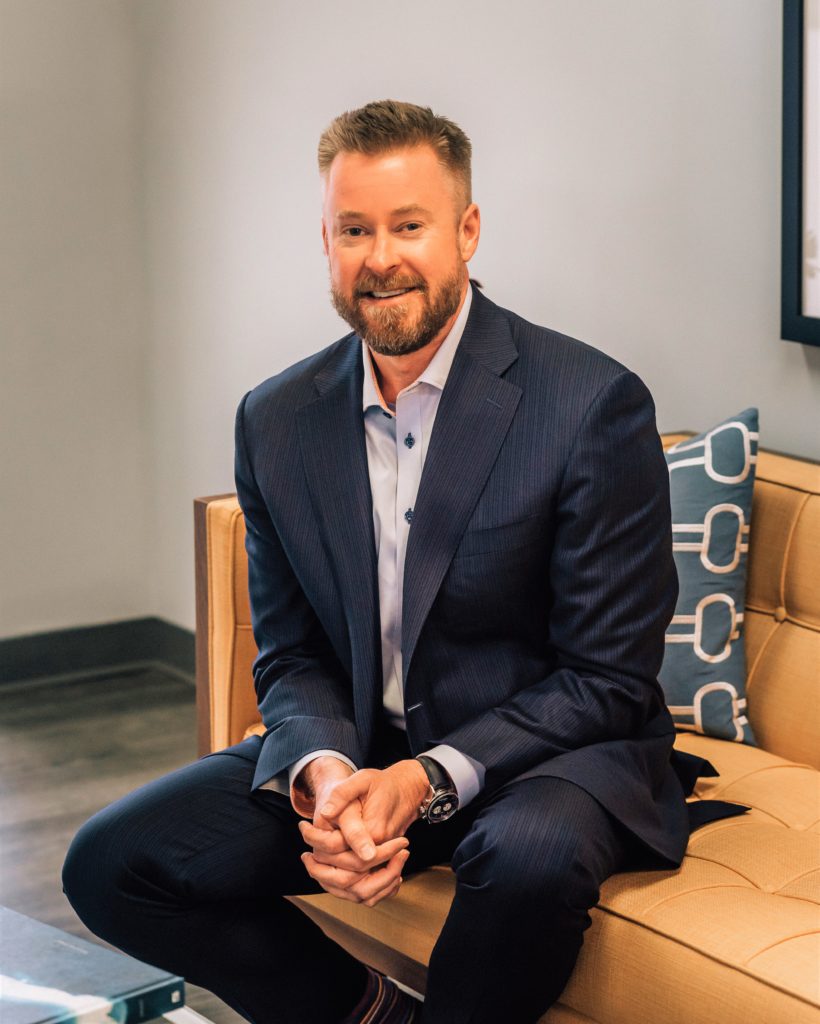 Brian graduated with Honors from Bucknell University in Pennsylvania. His move south began when he started law school at The George Washington University Law School in Washington, DC, which is consistently ranked as one of the top-20 law schools in the country. Brian began his legal career practicing civil litigation with a well-known law firm in suburban Maryland just outside of Washington, DC. Following the September 11, 2001 attacks on the World Trade Center and Pentagon, Brian represented victims of the attacks through the Trial Lawyers Care pro bono program. Brian then transitioned to the practice of family law with one of the top Washington, DC-area family law firms. In 2005, Brian moved to Chapel Hill. Upon obtaining his North Carolina law license, Brian continued his career in family law, working at Lewis & Anderson, a renowned Chapel Hill family law firm, for nine years until the firm's principal, Susan Lewis, retired from the full-time practice of family law. In 2014, Brian founded Chapel Hill Family Law with his colleague, Chellie Joines, to continue the tradition of excellence maintained by Lewis & Anderson.
Brian is a member of the Bar of Maryland, the District of Columbia Bar, the North Carolina State Bar, and the North Carolina 15B Judicial District Bar. Brian is also a member of the American Bar Association, the North Carolina Bar Association and its Family Law Section, and the North Carolina 15B Judicial District Bar Association. Throughout his career, Brian has successfully represented hundreds of clients in Maryland, the District of Columbia, and North Carolina, including Orange, Durham, and Chatham Counties, and Brian has reported appellate decisions in Maryland and North Carolina.
Brian is a native Pennsylvanian who was born into a family now full of lawyers. His father has practiced law in Pennsylvania for more than forty-three years, and two of Brian's three siblings are also lawyers. Brian lives in Chapel Hill his three children. Brian enjoys spending time with his family, travel, and just about anything involving water. Brian has been highly involved with his son's preschool, including serving on its Board of Directors as Chairman of the Board.
Send Brian an e-mail at brian@chapelhillfamilylaw.com.
Testimonials
"My ex-husband left me in February of 2008 very suddenly.  At the time, I had two children just entering high school, and so much fear, stress, and uncertainty lay ahead of me.  I happened upon Brian through an internet search and hired him as my divorce attorney.  Brian listened attentively, and I truly felt heard, rather than rushed.  He was sympathetic and empathetic.  He was understanding.  He was there for me every step of the way.  The court proceedings were grueling.  Brian made me feel safe and protected as I went through the court proceedings alone, with no family at my side.  I felt as though I finally had someone championing me that could get things done.  I knew without a shadow of a doubt that he wanted to see the best possible outcome for me in a very difficult situation.  We were victorious in our case for child support, alimony, and related health-care costs.  However, there were several contempt of court hearings later, as my ex-husband continually missed his scheduled payments.  Brian was always there for me, championing my case and stating clearly the injustice that my children and I continued to experience.  We continually won our cases before the judge.  Just shy of seven years later now, and, unfortunately, I am still battling my ex-husband in regards to his legal obligation to me.  Brian continues to fight for my legal due with all the resources he has available to him.  I have an ally.  I am strongly defended.  And, as a single woman, that is very important to me.  Brian continues to be the highly-capable and competent professional attorney I have needed through these past (almost) seven years.  And I know he will champion my case for as long as I need him to."  M.R.
"Brian took on my case despite the overwhelming complexity of my divorce.  My case was anything but simple.  It involved both the personal and abusive nature of my divorce, as well as the delicate and extremely sensitive issue of my severely neurologically injured little boy with a rare and critical medical condition.  Brian not only committed himself to my case with his exceptional knowledge of family law but also gave my case the indescribable attention, sensitivity, and compassion rarely experienced in any profession.  He guided me through two excessively difficult years and never wavered in his support and determination, even when, at times, the situation was dire and appeared impossible.  His meticulous and excellent knowledge and strategy in the field of family law, together with his sensitive discretion and admirable integrity, are what yielded a very positive outcome for my case.  Brian persevered until he delivered on his commitment to both me and my son.  Brian was able to secure both my and my son's interests and protection.  My son's life literally depended upon the outcome achieved by Brian, and, for this, I will be forever profoundly grateful to him.  It is both Brian's talent as an attorney and his firm commitment to ethics and integrity that gave me the legal outcome that was needed for me to be the mother upon which my son's life depends."  A.M.
"Navigating the uncharted waters of divorce is a daunting task.  When I unexpectedly found myself in this situation several years ago, I was distraught, confused, and in dire need of expert legal counsel.  I knew nothing about the process of divorce and had no idea what was going to happen.  From the moment Brian took my case, he put my mind at ease.  I knew I had made the right choice.  He explained to me what I could expect and took the time to make sure that I understood the process.  He answered all of my questions and kept me well-informed as the case progressed.  Not only does Brian have an exceptional knowledge of the law, he is also a superb negotiator, maintaining his professionalism while standing firm.  Brian understands that divorce can be an emotional time, and he kept me on track in terms of dealing with the issues at hand.  I think the traits that most set Brian apart are his honesty and kindness.  I was confident that he would always tell me the truth, even when it might not be something that I wanted to hear.  Most of all, I appreciated his kindness.  He helped to transform an extremely difficult and painful situation into a reasonably tolerable one, something for which I will always be grateful."  M.P.
"After nearly 20 years of marriage, I felt blindsided by the separation and I did not know where to turn.  Once the initial shock wore off, I regrouped to interview four Chapel Hill/Durham-area family practice lawyers and chose Brian because he fit my criteria including:  1. a lawyer with whom I felt comfortable, listened and answered my "what if" concerns; 2. a lawyer who I could allow being in charge when my emotions overwhelmed; 3. a lawyer who shared my goal of achieving the best long-term outcome; and 4. a lawyer who could compromise but who had the experience and willingness to take matters to the courtroom when needed.  Divorce can be a painful process, and, yet, Brian and his colleagues helped me feel confident as they guided, advocated and even provided a laugh and when I needed it most.  For your family law needs, I recommend Brian and his colleagues because they have the experience and commitment to provide excellent legal representation and help you achieve the best results possible.  I'm glad to have had Brian and his colleagues when I needed it most."  J.M.
"I am privileged to have known Brian for more than 5 years, and his sound counsel and highly effective advocacy have been invaluable to me regarding child custody and support matters.  Unlike so many family law attorneys who only think and operate in terms of "win-lose," I appreciate Brian's unique ability to vigorously and professionally represent my interests while also being solution-minded.  Brian always provides me with an excellent level of service at a great value.  I am so pleased to highly recommend Brian without any hesitation or exception."  C.P.
"Brian assisted me during a contentious divorce.  His approach was very even-handed and focused on achieving my goals with a minimum of confrontation or acrimony.  Thanks to his efforts, I was able to get 50/50 custody of my kids under difficult conditions.  His insight kept me from making mistakes and steered me on a steady course towards a successful conclusion.  He was willing to listen to my priorities and showed respect and tolerance towards me.  I would recommend him to anyone needing a family lawyer."  R.P.
"I contacted Brian at the recommendation of a friend and am very glad to have had him as my attorney during my divorce.  He is very knowledgeable and did an excellent job of educating me about the law, my rights, and how best to protect my assets as my marriage was ending.  He explained the process and steps needed for North Carolina's process, which is more difficult and complicated than in many other states.  Although going through a divorce is not a happy time for anyone, a superb attorney can help protect you from unnecessary financial impact.  I would highly recommend Brian to anyone going through a separation or divorce."  S.S.
"Brian was very thorough, patient, and knowledgeable in his handling of my case.  In spite of a very combative and uncooperative opponent, he remained calm and professional during the entire process.  And, he was really good at explaining my legal options and the ramifications of each choice.  Finally, I could always depend on him to keep my best interests at heart and am really glad that he was on my side."  J.K.
"I am very happy I chose Brian to represent me during my divorce.  This was a very difficult time for me, and Brian always provided me with sound strategy and advice.  I was very pleased that he always kept me well-informed on the progress of our case while quickly responding to any inquiries I had throughout the process.  I also appreciated that he worked with me and made sure that I was the ultimate decision maker throughout the process, guaranteeing I was amenable to all resolutions."  M.G.
"Serving as my divorce attorney and having to deal with some potentially volatile issues, Brian's calm demeanor, professional approach, and attention to detail always kept things in the right perspective for both parties.  While I hope I never to have to employ him in the same manner, I highly recommend him and would not hesitate to have Chapel Hill Family Law handle all my other family law matters."  S.S.
"I had a wonderful experience with Brian and his staff.  Not only was he extremely knowledgeable and helpful, but he seemed to sincerely care about my situation and helped me through a difficult time in my life.  I have referred several friends to him already and will continue to do so!"  T.K.
"Brian's calm, steady, and thoughtful advice was exactly what I needed to guide me through an inherently emotional and turbulent domestic situation."  R.N.
"Brian and his firm were extremely attentive and prompt to my legal needs, and I would not hesitate to use his expertise again."  G.M.